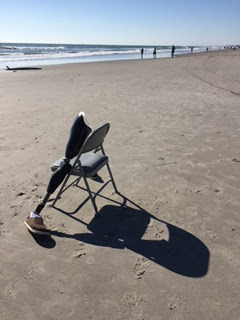 He hopped on one leg all the way to the water. With ease, strength, confidence. A friend at his side carried a surf board. Until they were knee high in the water. Then it was his.I was mesmerized by his hopping as my friend and I approached on our four-mile walk along the beach. We had two legs. He had one. Yet he was stronger in many more ways.
Then I saw the leg leaning casually against a chair. Awaiting his return. I was in awe of this man with one leg. Learning to surf.
It made me think, he's achieving a goal one hop at a time. I can do that, too.A couple of stories came to mind.
—Don Bennett, the first amputee to reach the top of Mt. Rainier, battled many challenges to achieve his goal. He did it not just to prove to himself that he could, but to demonstrate to other amputees that they, too, could achieve more than they thought they could. One hop at a time.
—Anurima Sinha, shoved from a train in India, then run over by it and left for dead, determined that she would not be pitied for the rest of her life. She became the first female amputee to reach the top of Mt. Everest. (fascinating story)
Both are inspirational. As is my surfer dude.
Being inspirational comes from doing your best, despite challenges and setbacks. Each of us does that. And we have more potential within than we give ourselves credit for. We carry around thoughts and ideas that energize us. But then fear, lack of confidence, lack of time, too many priorities, or maybe a fuzzy vision instead of a clear path, holds us back from achieving what we feel called to do.
For Bennett, Sinha and my surfer dude, their mindset drew them toward their goal. They probably pictured themselves achieving it a million times before getting there. Mindset alone didn't do it, though. Certainly it stimulated and fortified them. Action took them there. Specific action, broken into achievable steps.
As I think of my goals and challenges compared to what they and others deal with daily, I have nothing to complain about. Nothing. Nada.
I will achieve what is mine to do…one hop at a time.