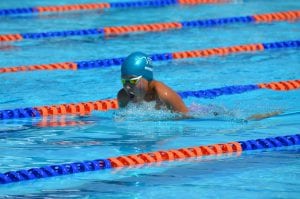 I am very happy for my 14-year-old cousin, Emma. As a high school freshman, she is learning a lot about herself by expanding her comfort zone, doing something she did not want to do. She joined the swim team.
Emma is not competitive and has preferred for years the individuality of martial arts training. But her parents wanted her to experience being on a team and pushed her to find one she enjoyed. With a lot of reluctance and a process of elimination, she tried for the swim team and made it. Fortunately, the coach is tough, fair, encouraging. She saw that Emma is good at the breaststroke and encouraged her to focus on it. Of course, she has to practice the other swim strokes, but the breaststroke has become her niche. This has done wonders for Emma. She looks forward to practicing with the team.
One of the hurdles she had to overcome was diving into the lane. She was petrified of diving off the starting block. She worked at it and found that visualizing herself doing it with ease made a big difference. Now it's her favorite thing to do.
The coach is teaching the team sportsmanlike behavior. She has them encourage and teach each other and, when they compete against another school's team, they cheer on that team's slower swimmers. Emma was surprised the other teams didn't cheer for their own still in the pool, but her team did and it made her feel good. She's learning to be considerate of the underdog.
I asked what swimming regularly is doing for her besides making her a stronger swimmer. She said she has more self-confidence, is less anxious about school and other things, and has been surprised that it is easier to focus on homework. Having new friends on the team, from freshmen to seniors, has opened her eyes to perspectives she would not have otherwise. Now she is shooting for all As and wants to keep her GPA up so she has a better chance at getting into the college she'd like to attend. She's thinking strategically.
At 14, Emma is learning that shifts in mindset, new habits and new connections can have life-enhancing impact.